LightSKIN LED Seatpost (black, 31.6 mm)
Description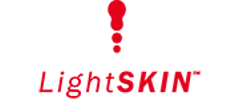 LightSKIN - Seat Post with five integrated LEDs (black, 31.6mm diameter)
When I first saw this part on the street, I just thought "how cool!" Arrived at home I had to immediately check what it was. I quickly found what I was looking for. It was the LightSKIN.
The LightSKIN is an aluminium seat post with five integrated high-performance LEDs. One of the LEDs is also the ON/OFF switch. The lower two LED diodes can be sunk in the frame if required (depending on frame and body size) and switched off in an energy-saving manner.
The LED seat post is primarily intended for the urban bikes reduced to the essentials. So no more detachable light is needed, which must be constantly removed to protect it from theft and vandalism. LightSKIN therefore does not act like a foreign object on the bike, but as an extended part of the frame. For stylish bicycle purists, a real feast for the eyes. The design seat post is manufactured in Korea and distributed in Germany by Schindelhauer bikes.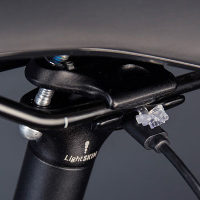 In the new version of the Lightskinoffered here, which is approved in Germany according to the StVZO, a battery was installed inside. This battery is rechargeable via Micro-USB. To charge the battery (e.g. via laptop, PC, power or power bank), no dismantling of the seat post is required because the micro-USB access is located on the saddle clamp, a charging cable is supplied. With a luminous duration of 10 (5 diodes) to 15 hours (3 diodes), many trips are possible at night. The StVZO-compliant LightSKIN features five bright, LED lights, two of which stand out to ensure glare-free visibility from every angle. They provide an output of 122 lumens.
Thanks to a silicone coating, the LED seat post is water-proof and can therefore be used in wind and weather. The desired color as well as the desired diameter can be selected at the top.



Features
Design seat post with five glare-free high-performance LEDs
New, rechargeable battery-powered version with german StVZO approval
Rechargeable via USB socket
Lateral 220 degree visibility Thanks to two standout LEDs
Battery life up to 15 hours
Operation with all 5 or just 3 LEDs (energy saving mode) possible
Different diameters and colors to choose
Max 380 g (at 31.6mm diameter)
Weatherproof
Made in Korea
Here is the brand new video for the StVO version of the LightSKIN:
Data sheet
| | |
| --- | --- |
| Brand/Manufacturer: | Schindelhauer / LightSKIN |
| EAN/GTIN: | 8809362170909 |
| Manufacturer Product. No. (MPN): | S311-316350B |
| Material: | Aluminium (AL6061) |
| Power supply: | rechargeable battery (Lithium Polymer), charged by USB |
| Output: | 122 Lumen |
| Diameter: | 31.6 |
| Length: | 350 mm |
| Weight (incl. mounting material): | 380 g |
| color: | black |
Notify me when this product is available
---