KNOG PLUS StVZO COB LED Rear Light (translucent)
Description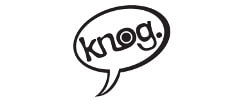 Knog PLUS Rear - Feather-Light USB Rear Light
The new rear light from Knog is simply called "Plus" and is not only a lightweight with only 12 grams, but comes with 20 lumens (in high mode) to an astonishing light output and this with a very compact design. The small light wonder measures just 6.6 x 1.4 x 2.4 cm. This is made possible by 20 side-by-side, highly efficient "chip-on-board" (COB) LEDs.
Another highlight of the rear light are the multiple mounting methods and a wide range of applications. As a bicycle light, Knog Plus can be attached to either the seatpost, the frame or the helmet and thus be used as a rear light. Here, the bracket can be mounted either with the enclosed rubberized Velcro strap or the included rubber ring. The light itself is held in the holder by a magnet. The integrated clip also makes the light weaable on clothing or backpacks and can be used for running or walking. But also for go for a walk by night, Knog Plus can be attached to the dog collar with the clip.
Plus has two light levels that can be operated via a button. Here, Knog PLUS is also switched on and off by holding it down for a long time. If the battery charge decreases, this is indicated via the LED on the switch.
No cable is required to charge the light. The USB charging socket is installed directly on the light and can be plugged into the USB port of a PC or a laptop for charging, for example. Alternatively, a suitable USB charger for the socket can be used, which is not included in the scope of delivery. The built-in Li-Polymer battery lasts about four hours until it is fully charged, which is indicated by green light of the control button.
Knog Plus is perfect for those looking for a multifunctional taillight that they can use for various activities.
Note: The bike light is approved to the german StVO.
Features
Lightweight (only 12g!) and very compact rear light
For fastening to seatpost (22.2 - 31.8mm+) or frame for cycling
Alternatively wearable for running or walking on clothes or bags via integrated clip
Rear light is held magnetically in the bracket
Up to 500m visibility thanks to 20 efficient COB LEDs
Two luminosity selectable (11 or 20 lumens)
Up to 3.5 hrs runtime (at 11 lumens)
No cable required: chargeable via built-in USB charging plug
Internal lithium polymer battery
With charge level indicator
100% waterproof
Includes quick guide (German)
Data sheet
| | |
| --- | --- |
| Manufacturer: | Knog |
| EAN / GTIN: | 9328389029018 |
| Manufacturer Product No. (MPN): | 12158 |
| Brightness: | 20 / 11 lm |
| Illuminants : | 21x COB ("Chip-On-Board") LED |
| Material: | Polycarbonate Housing, rubberized Velcro strap, Rubber-Ring |
| Dimensions: | 66 x 14 x 24 mm |
| Run Time: | 3,5 / 2,0 hrs |
| Charge Time: | approx. 4 hours |
| Battery: | Rechargeable lithium polymer battery |
| Weight (without mount): | 12 g |
| Housing color: | translucent |
Scope of delivery
Rear Light "Plus"
Seatpost Mount
Velcro strap
Rubber Ring
Rubber adhesive strip
German Quick Start Guide
Notify me when this product is available
---