Carryyygum - Small handbar rack( black)
Description
Carryyygum handlebar carrier (black)
You are an aesthete and do not want to destroy the clean lines of your bicycle with a conventional luggage rack? Every unnecessary part and every gram more on the bike is too much? But then it annoys you again when you are cycling and you just can't transport anything with it? Hey, for you now there's a simple and clever solution: Carryyygum!
If necessary, the instant luggage rack is fixed to three carriers on handlebars and stem by Velcro tape. This means that within a few seconds you have an extremely practical and stylish transport solution for your bike. And you have not only your luggage always in view, but also both hands on the handlebars.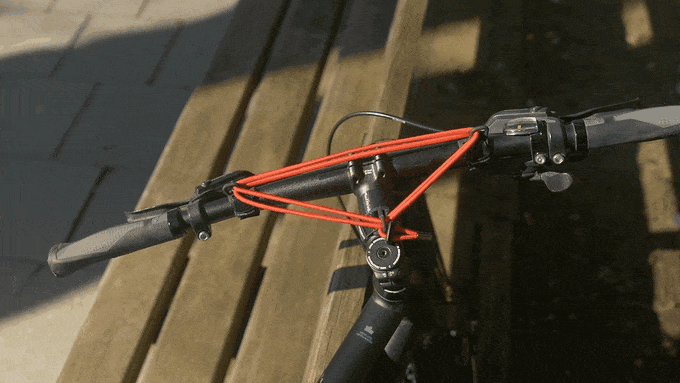 - Keeps your hands free when you drive to the baker and fetched buns and newspaper

- Carries ping pong paddle, frisbee or book on the way to the park

- Transport sunscreen and towel if you want to go to the beach

- Keeps ready your rain jacket or sweater ready for changing weather

The 33-gram lightweight handlebar rack was developed for urban bikes without a rack, essentially bikes such as Fixed Gear Bikes or roadbikes. Carryyygum can of course also be used on everyday bikes such as trekking and city bikes, where, for example, the luggage rack is occupied by a child seat.
The ingenious transport solution is suitable for almost any type of handlebar. There must only be a distance of 5-15cm between the three fixed points. Alternatively, carryyygum can also be attached to the frame to transport objects within the frame triangle.
The small helper consists of three carriers with a rubberized Velcro and a rubber band, which is placed double through the carriers. The ribbons are particularly durable, UV-resistant, waterproof and very durable even when used intensively.
Carryyygum - The Story behind the StartUp
Carl Heinze from Munich was tired of not being able to transport anything on his rack-free bike. So he came up with the idea of using the handlebars to transport objects and developed first prototypes made of clamping belts and cable ties. Soon a patent was filed and the prototypes were discussed in the circle of friends and bicycle enthusiasts. Carl brought a product design agency on board and the perfection of the practical transport device picked up speed. Through the crowdfunding platform "Kickstarter " money was raised so that "Carryyygum " could go into mass production. Over 700 supporters brought together almost ?20,000 and made "Carryyygum " possible.
Features
Simple and stylish transport solution for rack-free bicycles
To attach between handlebars and stem
Suitable for almost all types of handlebars
Minimum weight of just 33 grams
Installed by Velcro in a flash
Both hands on the handlebars instead of dangling pockets
Selectable in seven beautifull colours
Data sheet
| | |
| --- | --- |
| Brand/Manufacturer: | Carryyygum |
| EAN/GTIN: | 4260618080016 |
| Material: | Sturdy plastic, velcro tape and durable rubberband |
| Length velcro tape: | each approx. 19 cm |
| Weight: | 33 g |
| Color: | black |
---