RydeSafe Reflective Bike Decals Skull & Bones Kit (Blue)
Description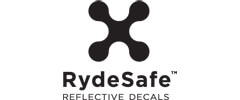 Safety is also available in cool: RydeSafe Reflective Bike Decals
Safety is an important issue for cyclists. But nobody really likes to ride with a warning vest and standard reflectors, for example.
Product designer Anthony Clune (aka "Tonky") from Brooklyn, New York, is hit by a car while cycling in 2011. This experience inspires him to make road traffic safer. And cooler..
His idea: Reflective stickers in different colors and shapes. These can be attached to the bike or, for example, to the helmet and other accessories. This is where creativity is in demand! Just combined in colour, this also looks chic during the day and makes your bike colorful and individual.

When the stylish stickers are illuminated by a car headlight at night, they throw back the light and seems to shine. So you will be noticed much faster by other road users on your bike in the dark and dusk.
RydeSafe Reflective Stickers - Skull & Bones Kit (Blue)
The RydeSafe stickers "Skull & Bones" are available in eight different colors. Individualize your Bicycle with the stickers or beautify your bike accessories such as the helmet.
Each pack contains 14 reflective stickers in different sizes (see photos). The large skull (incl. the crossed bones) has a diameters of 6 x 4.5 cm, the four smaller skulls are about 3 x 2.5 cm in size and the large bones are 7 cm long. The stickers are great for children's bikes but also for the bikes of young at heart adults.
Features
14 reflective stickers for your bike or accessories
Make yourself more visible in the dark when you are illuminated
Suitable for all kind of bicycles and various accessories such as helmets
Available in eight different colours
Made in USA
NOTE: In order for the stickers to last a long time, the surface must be thoroughly cleaned beforehand. It is best to use water with some detergent. The surface must be dry and absolutely free of dust and grease.
The RydeSafe Reflective Bike Decals comply with international requirements for reflective materials, including the ASTM D4956 standard. The stickers do not replace the prescribed reflectors on the bike.
Data sheet
Manufacturer/Brand:
Tonky Designs / RydeSafe
Type:
Skull & Bones Kit
Quantity:
14
Colors:
blue
Notify me when this product is available
---