RydeSafe Reflective Bike Decals Outer Space (18 Pcs.)
Description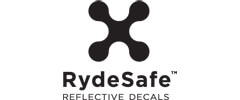 RydeSafe Outer Space Kits: Decorate your bike with Rockets, Stars, Moons and Planets
The RydeSafe stickers "Outer Space" are available in eight different colors. Individualize your Bicycle with the stickers or beautify your bike accessories such as the helmet.
Each pack contains 18 reflective stickers in different sizes (see photos). The size of the stickers ranges between a diameter of 2 cm (small stars) and 6.5 cm (max. diameter planet). The stickers are great for children's bikes but also for the bikes of young at heart adults.
Features
18 reflective stickers for the rims, frame or accessories of your bike
Make your bike visible in the dark when you are illuminated
How to be perceived much faster by others at dark and dusk
Suitable for all types of bicycles and various accessories
Available in eight colours
Made in USA
NOTE: In order for the stickers to last a long time, the surface must be thoroughly cleaned beforehand. It is best to use water with a little rinse. The substrate must be dry and absolutely free of dust and grease. The stickers do not, of course, replace the prescribed reflectors on the bicycle.
Data sheet
Manufacturer/Brand:
RydeSafe
Type:
Outer Space Kits
Quantity:
18
Available Colors:
purple, blue, green, red, orange, yellow, white, black
---