ASS SAVERS Regular Monster Mayhem Saddle Mounted Mudguard
Description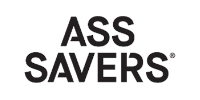 ASS SAVERS Regular Monster Mayhem - Mini Mudguard
Roadbikes, Singlespeed as well as Cyclocross and Gravelbikes - all these bikes come without a mudguard. But what if it rains or it has rained and the road, trail or other terrain is wet? Then it's time to install ASS SAVERS!
Before the first use, a bit origami is necessary. The pre-folded edges of the mudguard still need to be folded as seen in the video below. The small mudguard is then placed from behind under the Saddle pushed and attached to the front of the saddle rails with the newly patented FLIP-TIP™ system. Apart from your hands, no tools are necessary! The FLIP-TIP™ technology allows the Ass Saver with a easy folding of the tip securely attached to the saddle. To unlock, simply flip the tip back down and push the Ass Saver back. The system is fully compatible with all types of carbon saddle rails.
The new Ass Saver model is much easier to install even with a mounted saddlebag than previous models. Of course, one hundred percent compatibility cannot be guaranteed here.
The ASS SAVERS Regular are made of polypropylene (PP) and are perfect for the kind of bikes mentioned above and can be used on tire widths of 23-35mm.
The Monster Mayhem design by MANDER is back! The first 4-color print of the Swedish artist, who already worked for the hip-hop legend KRS-One, was sold out too fast. Now ASS SAVERS bring back the motif in new, fresh colors.
The ingenious mini mudguards from ASS SAVERS from Sweden are definitely one of the reasons why we thought it necessary to found a shop for innovative bicycle accessories to bundle exactly such products. It's actually funny that we are only now bringing the Mudguards into our range. Maybe because they are now available with such pretty motifs? If you want to read the (success) story of ASS SAVERS again, you can find it here.
Features
Simple mudguard for attachment to the saddle rails
Keeps your butt and back dry on wet roads
Simple, fast and tool-free assembly
Only needs to be folded on first use (see video)
Newly patented FLIP-TIP™ fastening system
Suitable for tire widths between 22-35 mm
Only 19g weight
Material: recycled polypropylene (PP)
Dimensions: 380 x 102 x 8mm
Made in Sweden
Data sheet
| | |
| --- | --- |
| Manufacturer: | ASS SAVERS |
| EAN / GTIN: | 7350072561712 |
| Manufacturer Product No. (MPN): | ASR-1-M01 |
| Material: | PP (Polypropylene) |
| Dimensions: | 380 x 102 x 8mm |
| Weight: | 19 g |
---